PRESSURE TRANSDUCERS and PRESSURE SENSORS
The process of requesting a quote for a custom pressure transducer always requires an exchange of information between the customer and the supplier. This section provides you with some information to make this dialog easier. Where reference is made to a pressure transducer, it applies equally well to a pressure transmitter, also known as a current transmitter.
Every pressure transducer has at its core a pressure sensor. Over the years, pressure sensors have been developed based on resistive, capacitive, and inductive techniques. Even though each method has its advantages and disadvantages, the resistive sensor is by far the most common for pressure transducer usage. This is for good reason. A resistive sensor using strain elements configured as a Wheatstone bridge is highly adaptable in form and lends itself to a broad range of manufacturing processes. This is the type of sensor typically used in our pressure transducers and pressure transmitters.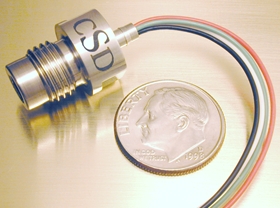 So, there are many things to consider when selecting a pressure transducer for a new or existing application.
Some companies offer what they refer to as a "custom pressure transducer" or a pressure transducer that can be "customized". For these pressure transducer suppliers, this may consist of offering a small number of stock models with limited options to change certain features. This may be acceptable if the pressure transducer you need happens to be a configuration that is offered. If it isn't, you may end up compromising on your preferred design to accommodate what is available. And if the pressure transducer you're interested in is not in stock, you could be faced with delivery times that may extend into months.
Or, perhaps you're looking for better performance in an existing application. Finding a company that will provide a pressure transducer as a drop-in replacement can be difficult, especially if you are on a tight schedule.
Custom Sensor Design responds to these situations with the capability to provide a pressure transducer that exactly meets your needs with much shorter lead times. Through efficiencies in pressure transducer design and manufacturing, our delivery times can be as short as 15 business days after order approval.
Before we can provide an accurate quote for a pressure transducer, we need to determine as best we can how it will be used and what performance you require. With this in mind, if your application is under development and you're interested in integrating a pressure transducer, we can provide as much support as you require. If your pressure transducer specifications are well defined, we can easily review what you have and quickly respond with a quote.
How the pressure transducer will be used involves knowing the environmental conditions it will be subjected to and the external physical configuration.

Environmental conditions include:
1) Pressure media the transducer sensor will be exposed to;
2) Pressure range you are measuring;
3) Maximum operating pressure applied to the sensor;
4) Operating temperature range;
5) Hydrostatic pressure requirement

Physical pressure transducer conditions include:

1) Dimensional constraints - the physical size of the pressure transducer or the
space it has to fit into;
2) Pressure interface - preferred pressure fitting or pressure adapter, and sealing
method;
3) Electrical interface - connector receptacle, solderable header, individual lead
wires, multiconductor cable

What performance you require includes:

1) Desired output - non-amplified (mV/V), amplified (V), or 4-20 mA current
transmitter;
2) Reference pressure - absolute, gage, or differential;
3) Allowable error - static error (linearity, hysteresis, repeatability), long term
stability (sustained pressure), thermal correction;
4) Secondary pressure containment;
5) Pressure calibration method


Our pressure transducers and pressure transmitters are inherently resistant to high vibration and high shock levels, but we are always interested in any requirements you can provide.
Our pricing starts at 675.00 USD for non-amplified pressure transducers. Please contact us for pricing on amplified pressure transducers and pressure transmitters.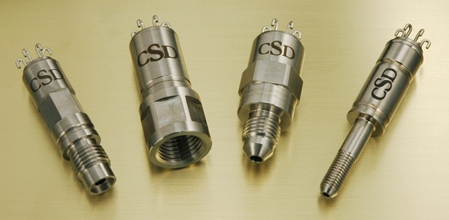 Products shown are from left to right: Pressure Transducer Model PT-023, Pressure Transducer Model PT-012, Pressure Transducer Model PT-025, Pressure Transducer Model PT-010.